D-MAX is a Light Commercial Vehicle of Isuzu, the world's leading commercial manufacturer and the oldest truck maker in Japan with more than 100 years-history of establishment and development. Isuzu D-Max, since its first introduction in 1963, has undergone 7 times of full model changes. Through each generation, Isuzu D-MAX has gradually changed dramatically. All New D-MAX – "The perfect truck", fully changed, is the most advanced pickup truck which you have ever seen for the D-MAX before.
After a series of successful launches in Thailand, Australia, the Philippines, … and some countries all over the world, on April 16th2021, Isuzu Vietnam will organize an online launch event, officially introducing All New D-MAX in the Vietnam market.
All New D-Max offers a quite different experience by the perfect combination of modern style and sophisticated design that has stamped by ISUZU brand.
All New D-MAX is resulted from the research and development of Isuzu's experts and engineers team over 6 years and undertaking more than 4 million km of testing, comprehensive innovation, meeting the Vietnam's customer expectations, where the pickup truck is defined more than a multipurpose vehicle, as All New D-MAX not only meets but also exceeds the pick-up limit, offering the ultimate experience of "THE PERFECT TRUCK".
All New D-Max is, without doubting, "The Perfect Truck" with outstanding features of:
   – Exterior with Emotional and Macho design
   – Extremely luxury interior
   – Advanced technology – Outstanding safety
In addition, All New D-MAX applies the most attractive sales & after-sales policies in its segment, with nationwide sales, after-sales service system and genuine parts which ensure the highest satisfaction for customers.
Hopefully, All New D-MAX will help you discover new places with friends who love adventure but also require comfort and convenience in daily business.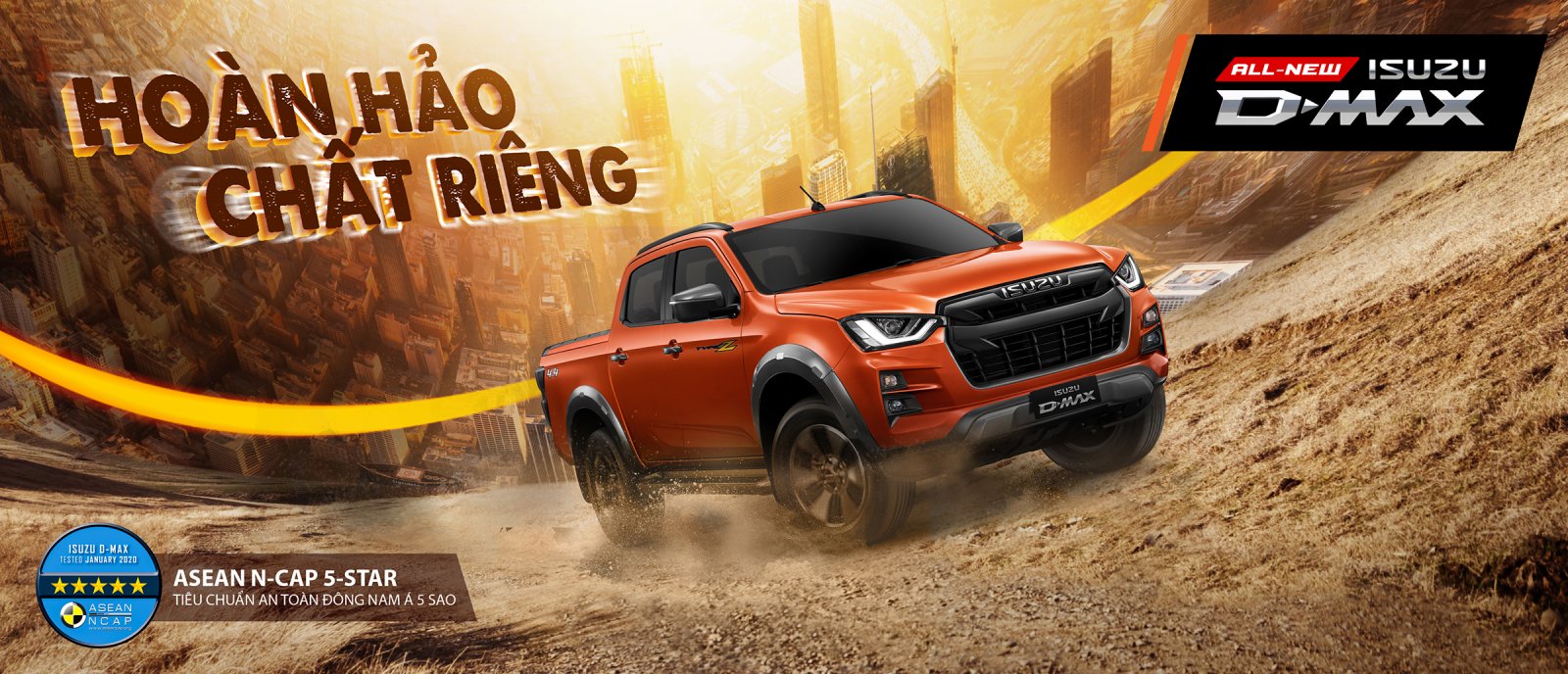 BOLD AND PERFECTLY UNIQUE EXTERIOR
All New D-MAX has completely changed, becoming a pickup with more powerful and attractive appearance.
Breaking out of the boring old shape, the new impressive front surface with a large grille and two large horizontal bars along the top edge creates a bold and sharp look.
Bi-LED lights combine luxurious daytime running lights, independent of the fog lights, increasing the ability to identify from far distance. The rearview mirror integrates sharp LED strip to increase visibility and safety for drivers in daily operation.
The 18-inch aluminum alloy wheels in matte black (Type Z version) and silver 17-inch (Prestige version) bring more boldness upon owners' taste.

New mighty radiator grill

EXTREMELY LUXURIOUS & CONVENIENT INTERIOR CREATING EXELLENT EXPERIENCE
It's not only the breakthrough about exterior, but the change that brings the emotional feeling of the All New D-Max is the luxurious and comfortable interior space, giving the passengers no longer feeling like sitting in a pickup but high-end passenger car as well.
Universal Space design language emphasizes the comfort of all passenger, the cabin size is optimized, and the leg room is spacious that brings more comfort for drivers in a long journey.
Luxurious leather seats are designed to cover the back and protect the spine. In addition, the 8-way electric driver's seat adds thigh and back lift to reduce fatigue and maximize relaxation on every journey.
The 3-spoke steering wheel with the center is designed in a beautiful hexagon, integrating the convenient function keys. 9-inch central entertainment screen is completely new design, high resolution, integrated Apple Carplay and Android Auto. In addition, an 8-speaker surround sound system brings an immersive audio experience.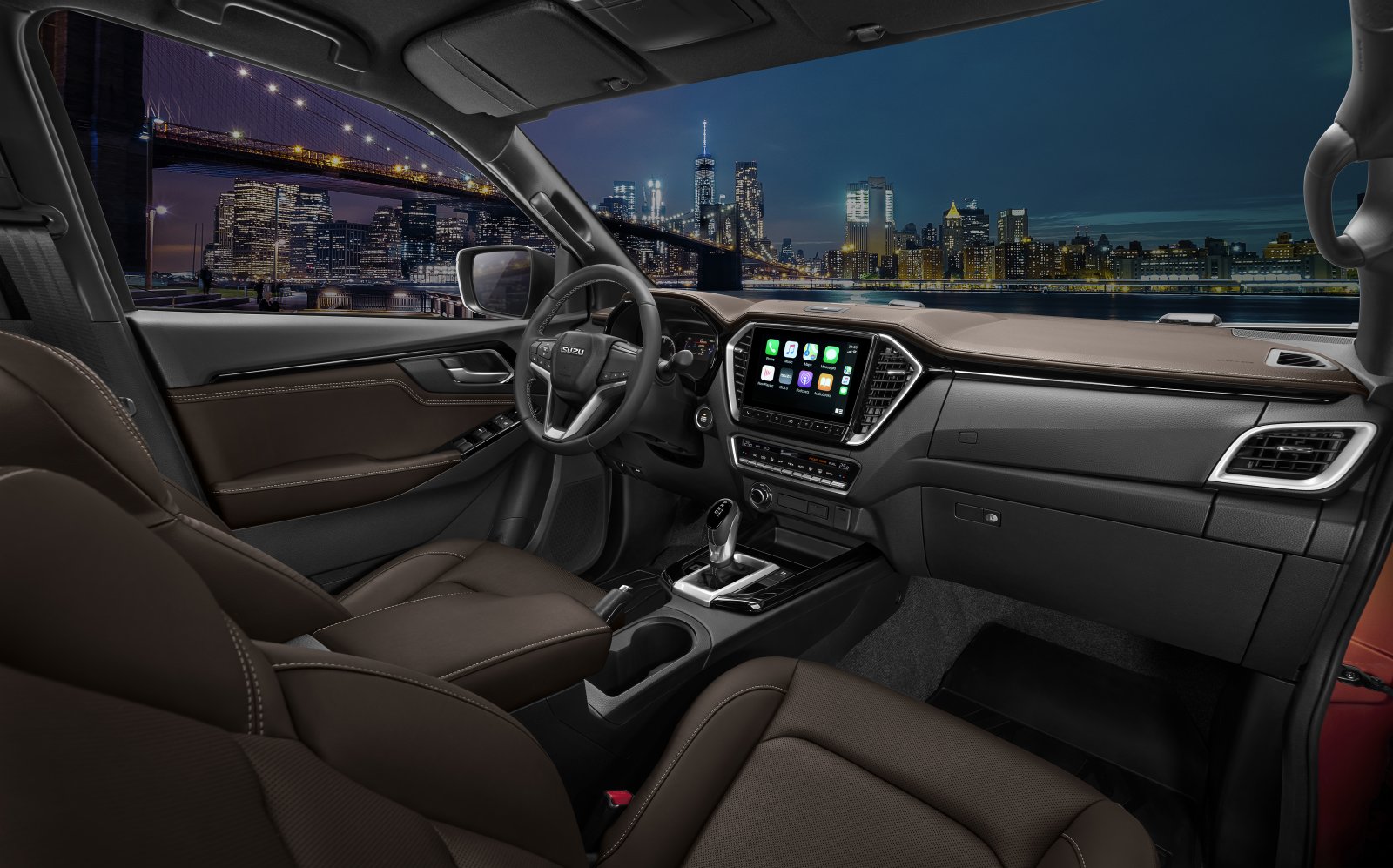 Luxury modern interior space
Besides, All New D-MAX maximizes comfort with independent dual-zone air conditioning and luxurious piano-key controls combined with air-conditioning doors in the rear seats to provide a comfortable space for passengers.
All New D-MAX is also impressed with every detail that brings most convenience & comfort for passengers such as: Smart key integrated remote start to warm the engine and cool the passenger compartment before operation; Follow Me Home feature maintains lights for 30 seconds when parking assist with navigation light; windshield with "IR CUT" technology against UV rays helps to reduce cabin temperature and increase interior life as well as save fuel; smart RLS sensor automatically turns on/ off lights by day and night and wipes rainwater.

INTELLIGENT SAFETY SYSTEM
All New D-MAX is proud to pass the strictest tests and achieve the 5-star ASEAN N-CAP Safety Standard with: 07 airbags for comprehensively protect passengers from multiple directions; Radar system helps to warn vehicles when reversing and warns blind spots when vehicles overtake from behind to help the driver change lanes more safely; 08 front and rear sensors with reverse camera make parking easier than ever. All New D-MAX smarter thanks to an RLS sensor that automatically turns on/off the headlamp or windscreen wipers.
Moreover, all new D-MAX versions are equipped with a full range of active safety systems such as ABS/ EBD/ BA to help anti-lock, allocate and support brake force, or ESC/ TCS helps control and stabilizes the vehicle, HSA/ HDC supports easy and safe up and down slopes. In particular, the BOS system supports emergency braking when it detects the driver depressing the accelerator pedal and brake pedal at the same time.

Meet ASEAN NCAP 5-star safety standards

POWERFUL PERFOMANCE AND FUEL ECONOMY
All New D-Max is equipped with 1.9L Ddi diesel engine; the combustion chamber capacity is small but achieves maximum power and torque (150PS / 350Nm), suitable for daily operation and fuel economy.
Equipped 6-speed transmission, smooth operation; Rear-wheel drive or 4×4 2-wheel drive with electronic clamping system, increasing traction for outstanding performance of All New D-MAX and flexibility on low-grip road surfaces, with locking rear differential helps the driver to actively distribute the traction in the two rear wheels to help overcome muddy effectively.
Inheriting Truck DNA, the All New D-MAX chassis made from the toughened steel that is tested for durability of 4 million km, while adding reinforcement bars at all doors for added safety and performance. Besides, 34% greater vertical momentum to provide the better torsional and flexural resistance, enhances steering feel and increases durability.
New innovative independent front suspension makes the vehicles more stable when cornering, and the rear axle uses two-story tweezers suitable for each load mode for smooth operation.
The high ground clearance provides the ability to wade for deep 800mm in water, is an advantage when traveling in poor terrain or in flooded road conditions like in Vietnam.
The All New D-Max has overall dimensions of 5265 x 1870 x 1790 mm (DxRxC), wheelbase 3125 mm. Compared to old D-Max, the new version is 10mm wider but 30mm shorter. However, the 30mm longer wheelbase makes the vehicles more stable and creates spacious space for the cabin.

MULTIPLE CHOICES, COMPETITIVE PRICE, ULTIMATE WARRANTY
The warranty period of All New D-MAX is 5 years or 200,000 Kmwhich ever come first, which is the best policy in its segment.
All New D-MAX offers a variety of color options including: Stylish Orange, Trendy Blue, and Delicate Silver for all 3 versions D-MAX TYPE Z 1.9 AT 4×4 and PRESTIGE 1.9 AT / MT 4×2, separately. The TYPE Z 1.9 AT 4×4 is available in Pearl White and the PRESTIGE 1.9 AT / MT 4×2 is added in Elegant White.
ISUZU All New D-MAX is launched with a very competitive price as follows:
| | |
| --- | --- |
| VERSION | Selling Retail Price (Including VAT) |
| TYPE Z 1.9 AT 4×4 | 850,000,000 VND |
| PRESTIGE 1.9 AT 4×2 | 650,000,000 VND |
| PRESTIGE 1.9 MT 4×2 | 630,000,000 VND |
Hopefully, All New D-MAX not only creates your personality, but also becomes a powerful means to realize all your dreams and success in your business.
Isuzu Vietnam has always accompanied and supported customers, not only over the past 25 years and but also the coming journey.
For more information, please contact the nearest D-Square and I-Truck dealers or visit web-site: www.daithinh-isuzu.com.vn