On February 09, 2023, ISUZU Vietnam officially launches the D-MAX and mu-X 2023 with outstanding enhancements towards perfection to increase choices for customers.
D-MAX – The Perfect Truck and mu-X – Multi-Utility for every Experience with many upgrades in appearance but always maintaining the famous features in the design of ISUZU product for practicality, safety, durability and fuel efficiency.
D-MAX & mu-X 2023 with breakthrough and impressive appearance
ISUZU Vietnam always listens to customer feedback to improve the design of D-MAX and mu-X more bold and modern. In addition, in 2023 ISUZU introduces the D-MAX UTZ 4×4 MT, giving customers more choices to meet personal and business needs.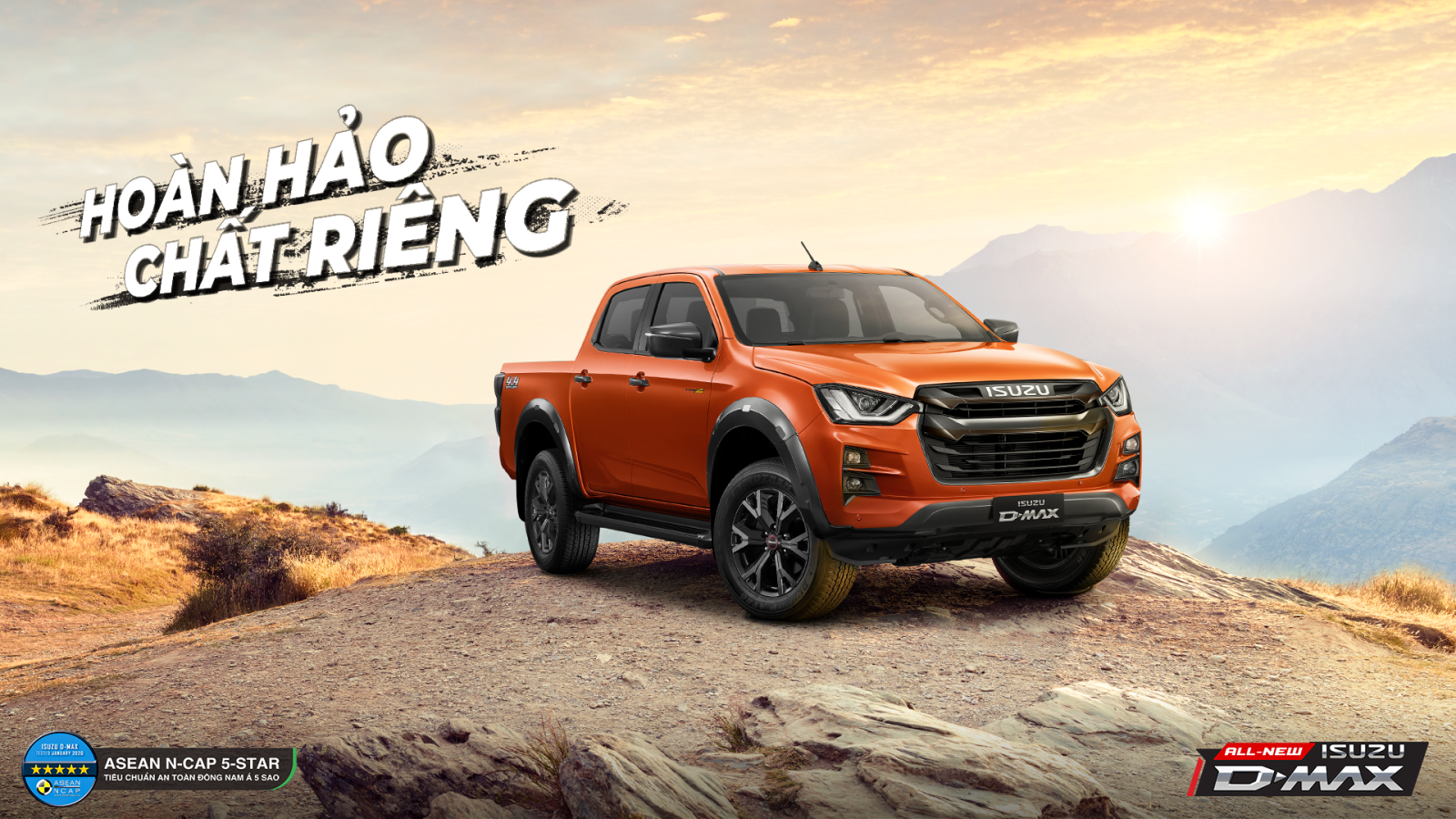 ISUZU D-MAX 2023 marks in Vietnam with careful investment in exterior design, extremely strong, sporty and masculine: the front with the new grille and upgraded Bi-LED Projector headlights; the daytime LED lights are enhanced with the impressive fog lights; the rear LED lights are also changed color inside, the 18-inch alloy wheels have also been improved, increasing the majesty and strong of the pickup.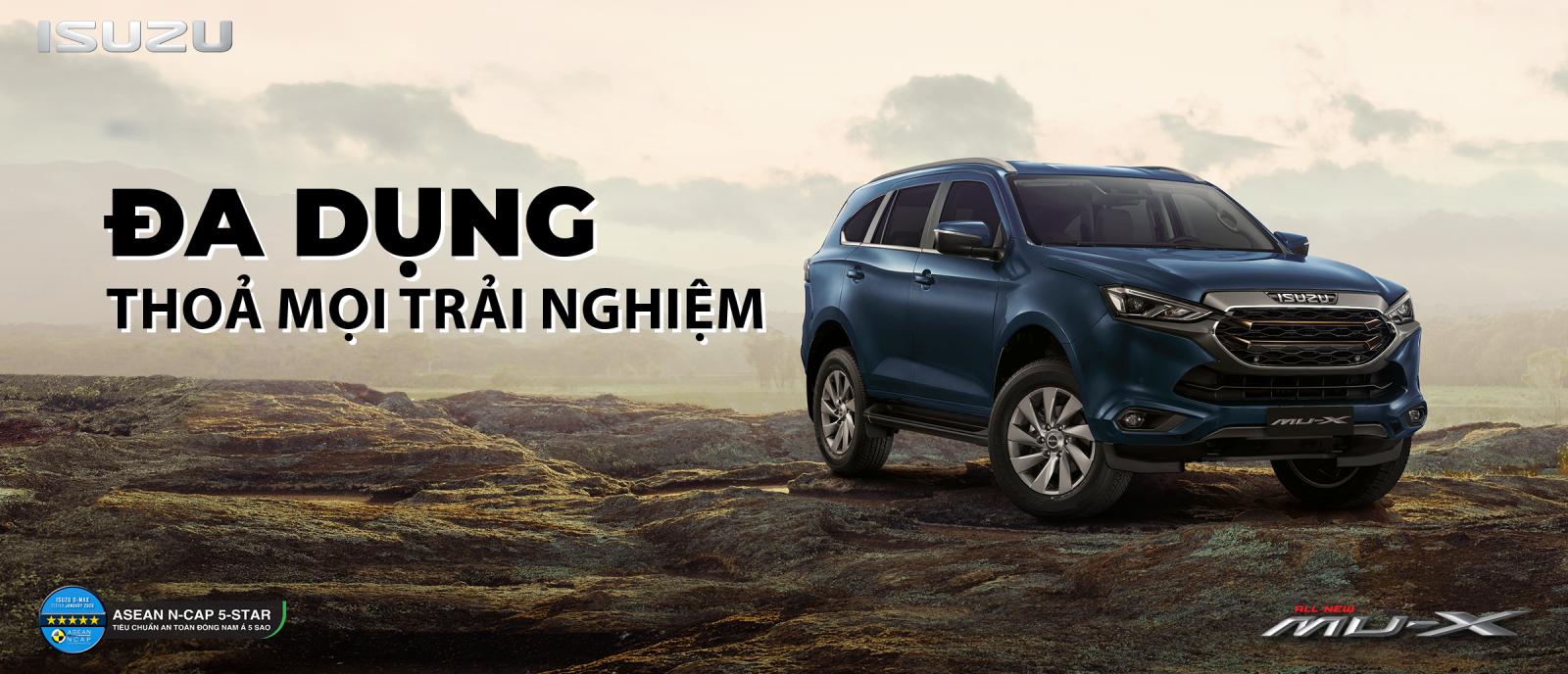 The design of the mu-X 2023 is also optimized for an elegant, luxurious and dynamic appearance serving the family purposes and adventures on all terrains. The grille design with Graphite color and Bi-LED Projector headlights with integrated the daytime LED lights, increasing illumination similar to D-MAX for safer operation.
Luxurious and modern interior
ISUZU D-MAX and mu-X 2023 with the luxurious interior compartment and many modern technologies increase the experience for customers.
ISUZU D-MAX with universal design language focuses on bringing comfort, convenience and flexibility. The ISUZU D-MAX 2023 dashboard clock is luxuriously and modernly upgraded with multi-information display. The leather-wrapped steering wheel is integrated audio and hands-free voice controls. D-MAX 2023 is equipped with a smart start button, black leather seats and a 6-way power driver's seat.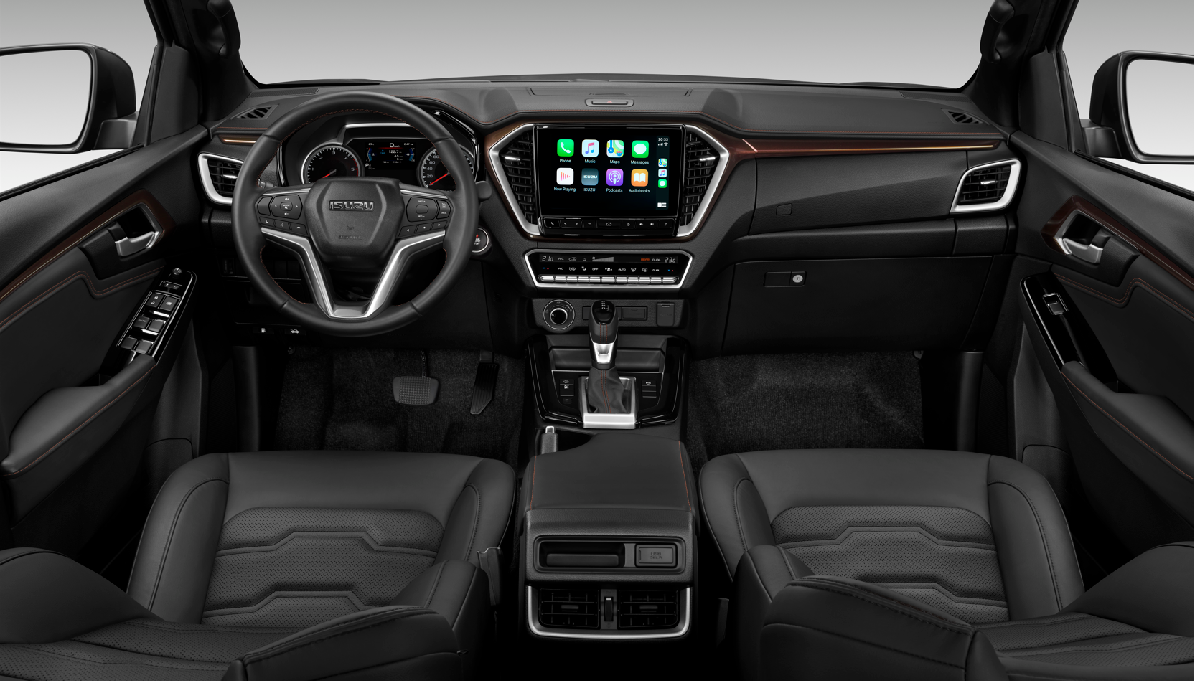 ISUZU mu-X 2023 is equipped a luxurious and spacious interior with high-quality leather seats, Cafe Latte color. The golden yellow door panels and stylish brown cockpit panels. The 8-way electric driver's seat, the steering wheel integrates many convenient function buttons increase the comfort on every journey. The electric trunk can be opened and closed via a very convenient hands-free sensor.
Impressive operation and outstanding safety equipment
ISUZU D-MAX and mu-X is continuing to affirm its position and become the bright candidates in the pickup and SUV segment in Vietnam market. ISUZU D-MAX is equipped with a strong Diesel engine, fuel-efficiency, meeting EURO 5 emission standards for the friendly environment, the front and rear suspension systems provide a smooth ride feelings for you and your family on every journey.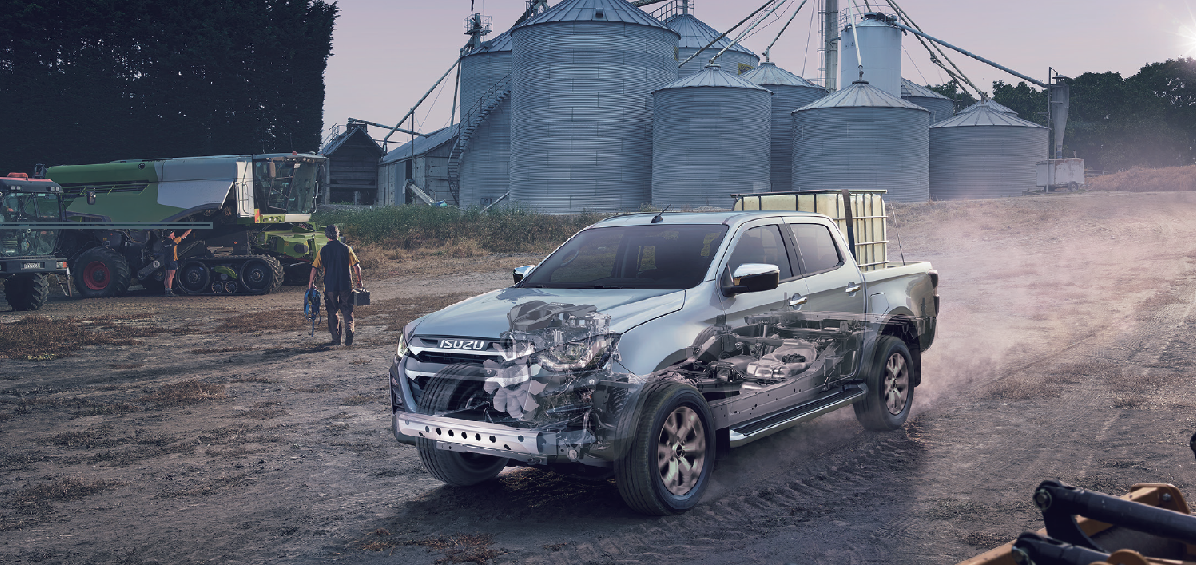 With the 2023 version, ISUZU D-MAX and mu-X focus on driver assistance technology and safety equipment such as: Automatic High Beam system (AHB) helps drivers see more clearly at night without disturbing oncoming vehicles, Forward Collision Warning (FCW) helps maintain a safe distance between vehicles, as well as to prevent and reduce accidents, and many other safety features.
The changes of ISUZU D-MAX and mu-X 2023 are a proof for the constant efforts of ISUZU to bring models that are not only a means of transportation but also elevate the adventure experience and honor the style of companions.
ISUZU is confident in quality of products and offers customers who own ISUZU pickup and SUV the most attractive sales & after-sales policies in the segment, with a 5-year or 200,000km warranty (whichever comes first). Contact the nearest ISUZU Dealers now to receive many promotions on the occasion of the launch of D-MAX and mu-X 2023.