On the occasion of the 25th anniversary in Vietnam and grateful customers who have always loved and supported Isuzu brand, Isuzu Vietnam has launched a special edition QKR to mark an important milestone in the history.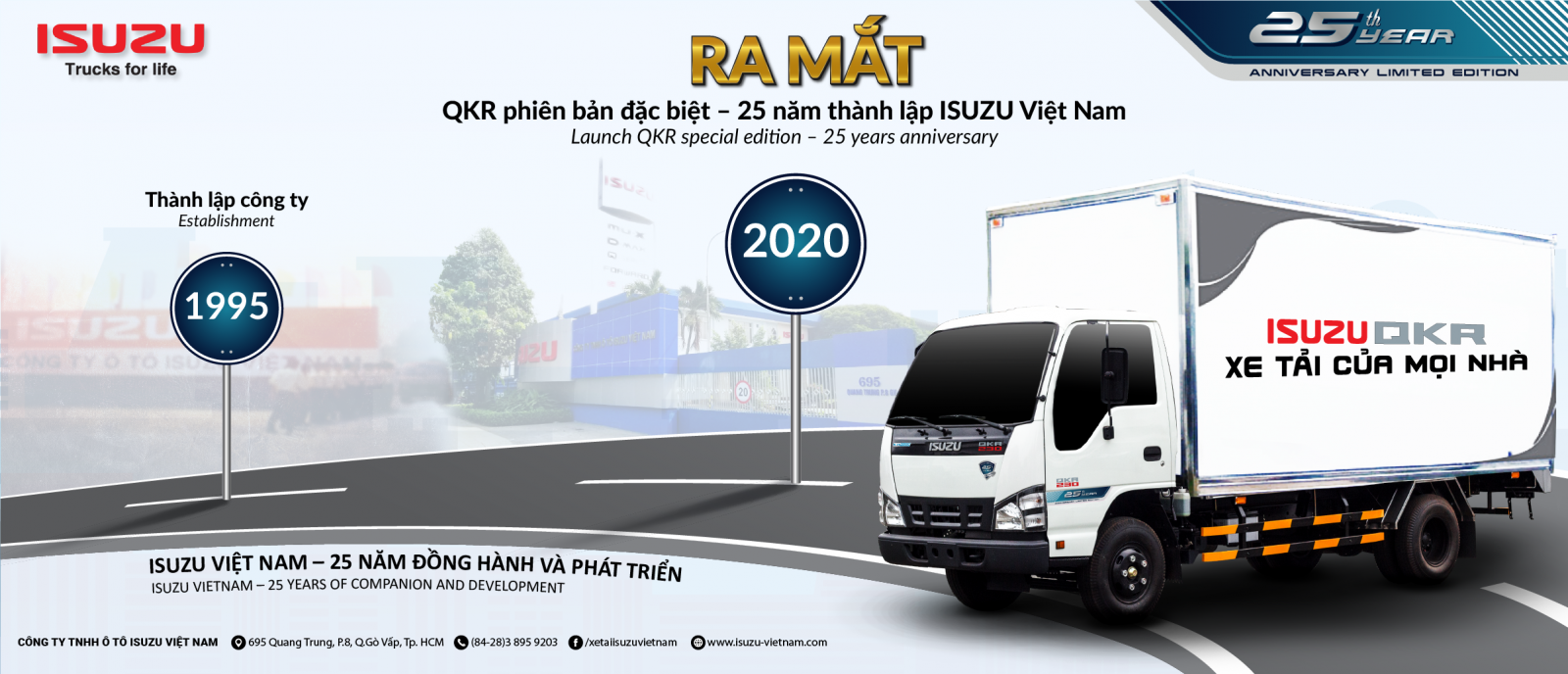 With a 25th year journey accompany with Vietnamese customers, Isuzu constantly focuses on researching and developing new products to meet the increasing demands of customers. In 2012, Isuzu impressed by the launch of QKR light truck with flexibility, convenient design, meeting the requirements of high quality and reasonable price. In 2017, Isuzu also focused on improving after-sales service with a big investment when launched the Isuzu After-sales Service Center (IAC) in Cu Chi, total area of ​​more than 2,400 m2 reserved for spare parts warehouse. In 2018, Isuzu became the pioneer of truck manufacturers to launch a new generation of trucks that meet Euro 4 emission standard according to government regulations, applying Blue Power technology to achieve outstanding fuel economy and friendly to environment.
NEW POINTS OF QKR – 25TH YEAR ANNIVERARY EDITION
Always in the top of the bestselling trucks of Isuzu Vietnam, QKR light trucks have received much love and support from customers, reaching more than 5,000 vehicles sold in 2019. QKR 25th anniversary edition with limited edition has special upgraded as follows:
High quality industrial leather seats:
        + Waterproof
        + Easy to clean and dust free
        + Help drivers more comfortable sitting throughout the journey of transportation.
Decal "25th Anniversary" prominent in front of the cabin & the side of vehicle door makes a difference.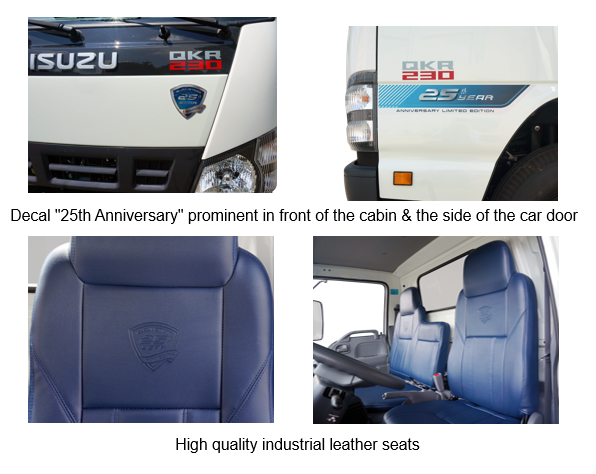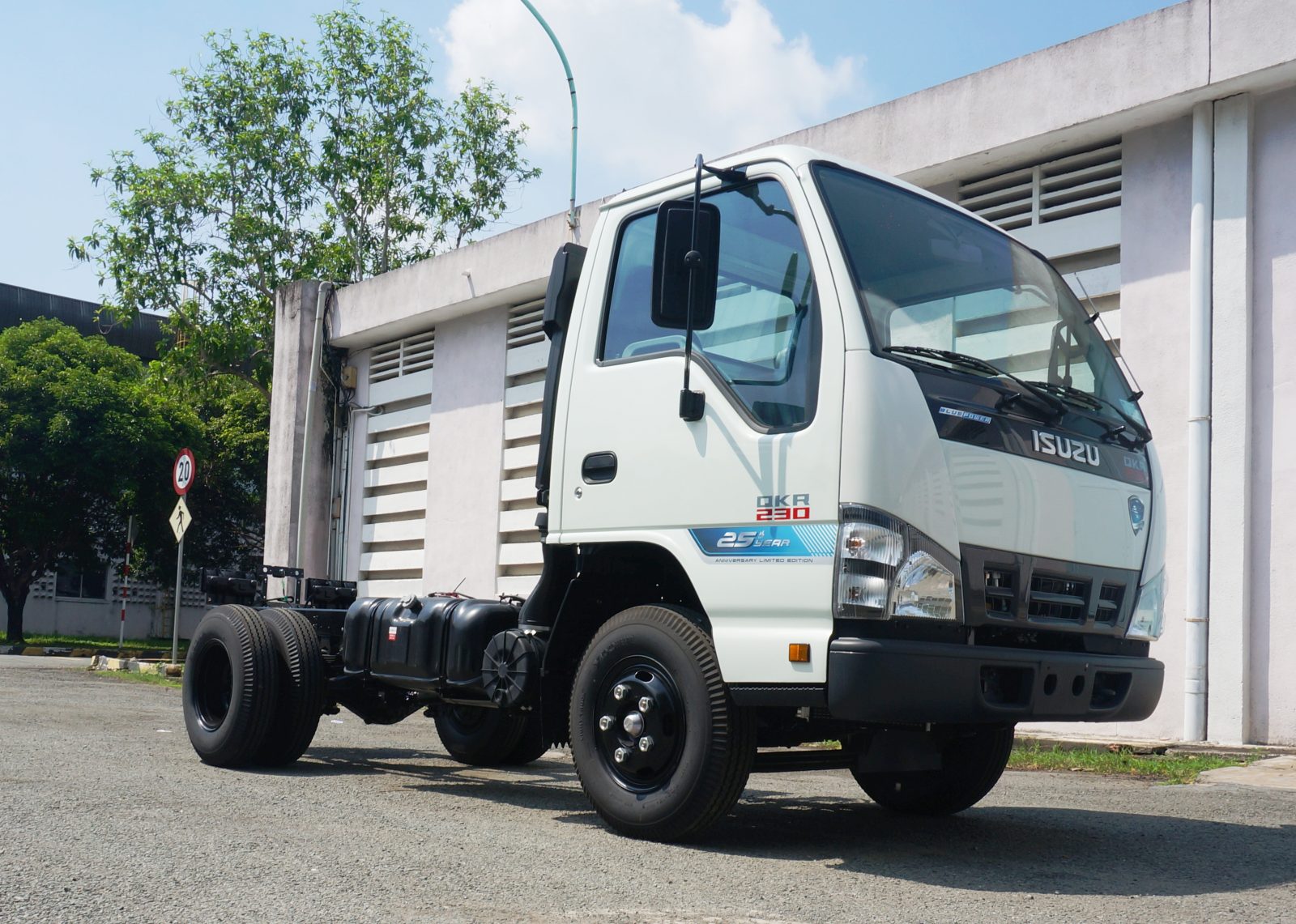 Overall QKR version celebrates 25 years of establishment

  
With the advantage of a diverse range of payload Gross vehicle weight from 3,490kg, 4,990kg, 5,000kg to 5,500kg), QKR is applied the new Blue Power technology, using the Common rail electronic fuel injection engine. , creating an outstanding durability, powerful engine operation, fuel economy.
MASS

QKR77FE4A

QKR77FE4

QKR77HE4A

QKR77HE4

Gross vehicle mass

Kg

3490

5000

4990

5500

Kerb mass

Kg

1885

1895

Overall dimension (OAL x OW x OH)

mm

5090 x 1860 x 2200

5830 x 1860 x 2200

Wheel base

mm

2750

3360
POSITIVE CONTRIBUTIONS OF QKR IN THE ISUZU'S SALES HISTORY IN VIETNAMIt is no coincidence that Isuzu Vietnam choose QKR as the representative model of the 25th year milestone in Vietnam, because this is the main model (segment of 5 tons or less) of Isuzu and has brought great success in the development process. From the mission of being "Truck of all houses", QKR has really accompanied on all roads and become close friends of individual customers, family customers, small and medium companies as well. In addition, in recent years, many large fleet customers have entered the market of e-commerce, supermarkets and convenience stores. With the ability to meet the requirements for efficient, fuel-efficiency, high-performance, less damaged parts, Isuzu QKR is also the preferred choice and reliable partner of companies, large shipping units.
On the occasion of 25 years of establishment, Isuzu Vietnam Co., Ltd. sincerely thanks customers for the trust of Isuzu products during the past time. With the motto "Customers at heart", we will make continuous efforts to introduce the best quality products and best after-sales services to our customers.