3S i-Trucks Thanh Thao Dealer was built according to Isuzu Japanese standards  and organize opening ceremony on Nov 12 at 362 Nguyen Trai, Quarter 4, Ward 9, Ca Mau City.
Thanh Thao Auto Co., Ltd is the 19th Dealer of Isuzu Vietnam nationwide, specializing in trading new cars, spare parts, genuine accessories, providing repair and maintenance services. i-Trucks Thanh Thao was established according to the latest Isuzu standards with a total investment of more than 6.5 million USD.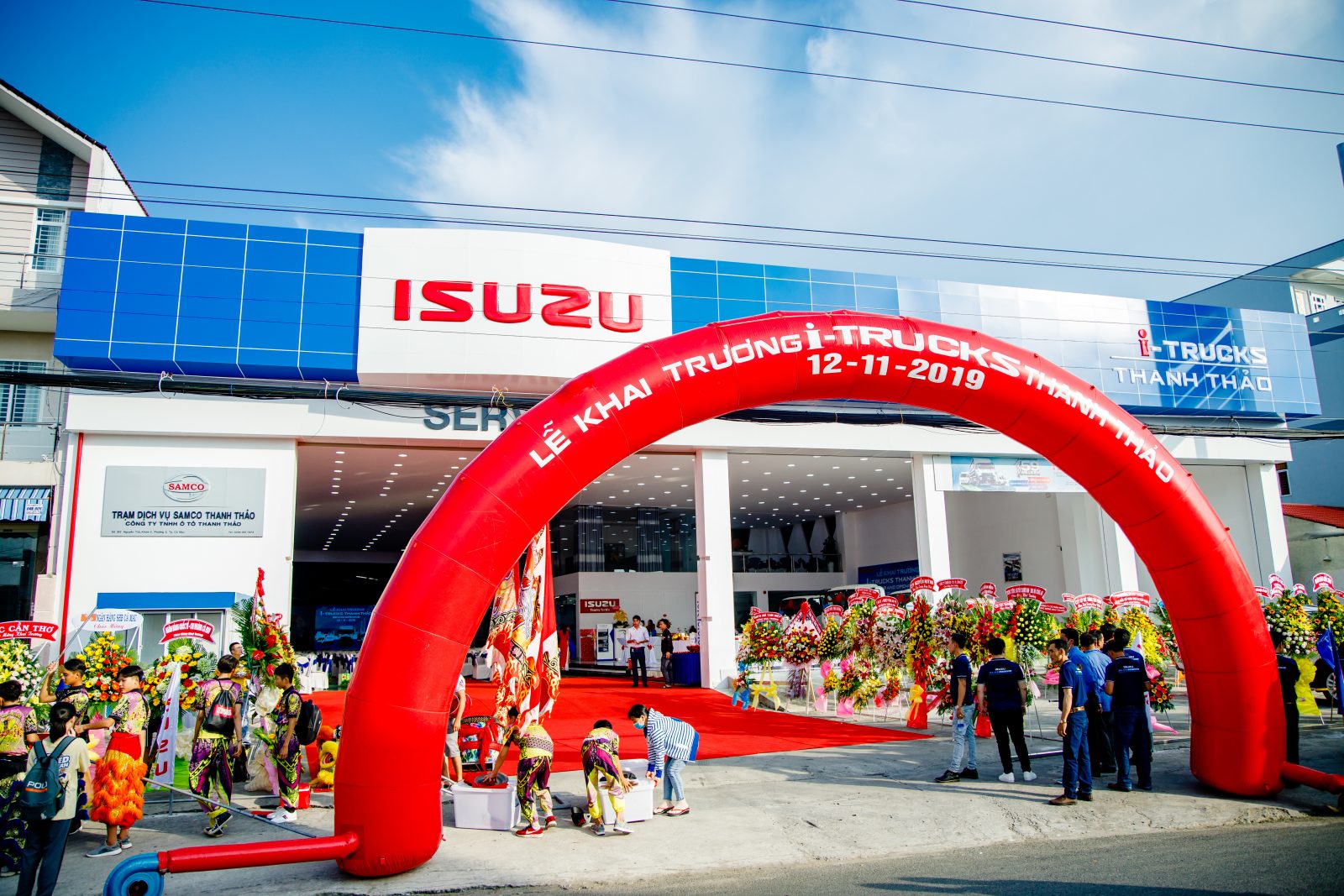 Located on an area of ​​10,000 m2, i-Trucks Thanh Thao includes 3 product display areas, office work area, service workshop area and design repairs with modern interior and equipment.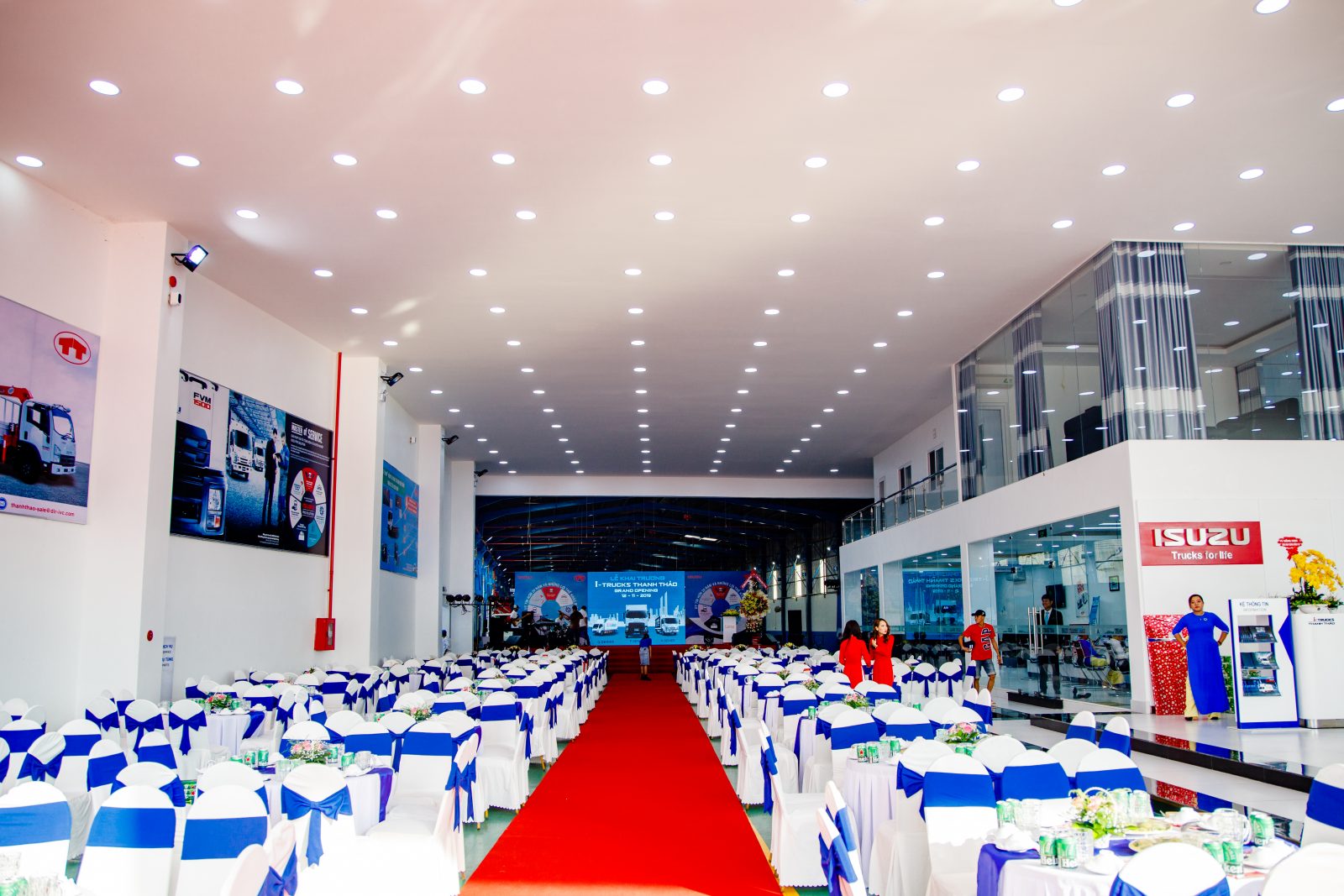 i-Trucks Thanh Thao is located on an area of ​​10,000 m2
Ms. Tran Thu Ha – Director of Isuzu i-Trucks Thanh Thao said that she is proud to be the next Dealer of Isuzu Vietnam in the Western region. With a huge investment in capital as well as technology quality, i-Trucks Thanh Thao hopes to become a prestigious address, providing good services to customers, contributing to the development of Isuzu in the West market in particular and Vietnam in general.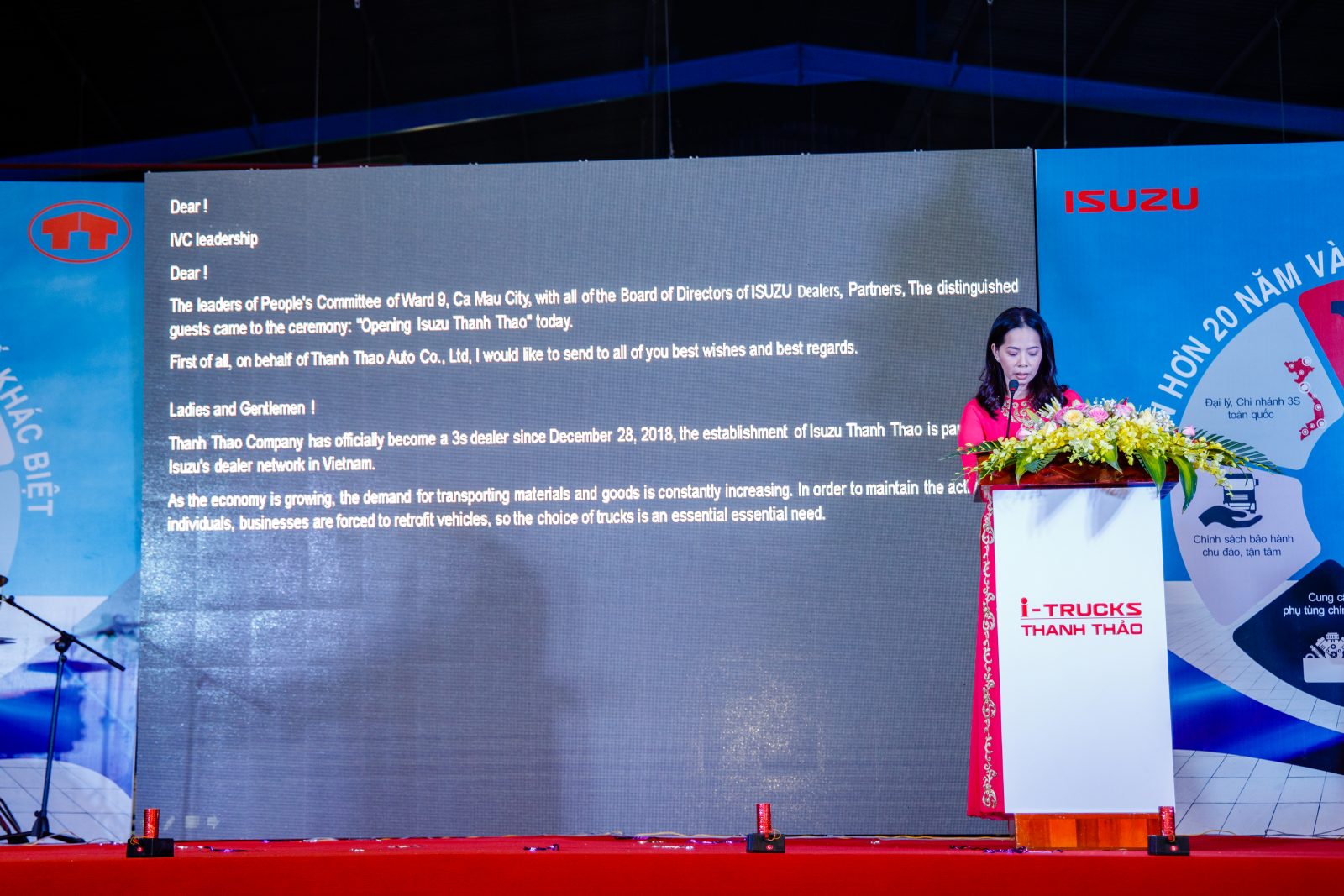 Ms. Tran Thu Ha – Director of Isuzu i-Trucks Thanh Thao give an opening speech
Beside the vehicle display area arranged according to Isuzu's design standards, the reception area and customer lounge are also designed with full of free relaxation services to help customers relax while waiting for services
i-Trucks Thanh Thao Dealer owns a service workshop with total area of ​​3,300 m2 and diagnostic equipment in accordance with global standards. All equipment is imported from abroad and installed in accordance with Isuzu's standard with 14 quick repair can have the capacity of 30 turns per day, advanced auxiliary equipment system, inspection system, brake force, headlight inspection system … with 5 compartments for copper painting, one for factory inspection and one for vehicle washing.
Isuzu Vietnam representative – Mr. Hidekazu Noto shared: "As you may know, ISUZU has been expanding our business in more than 100 countries, and become one of the leading commercial vehicle brands across the world. In Vietnam, thanks to Vietnamese customers' trust, we have been developing and upgrading our brand in more than 20 years.Ca Mau City is one of the most important areas in Mekong Delta, as well as Vietnam's economy. This area has a big fish/seafood industry and the big market for freezer truck segment, and Thanh Thao with modern equipment will be the trustful partner for ISUZU Vietnam to take care our customers in this important area."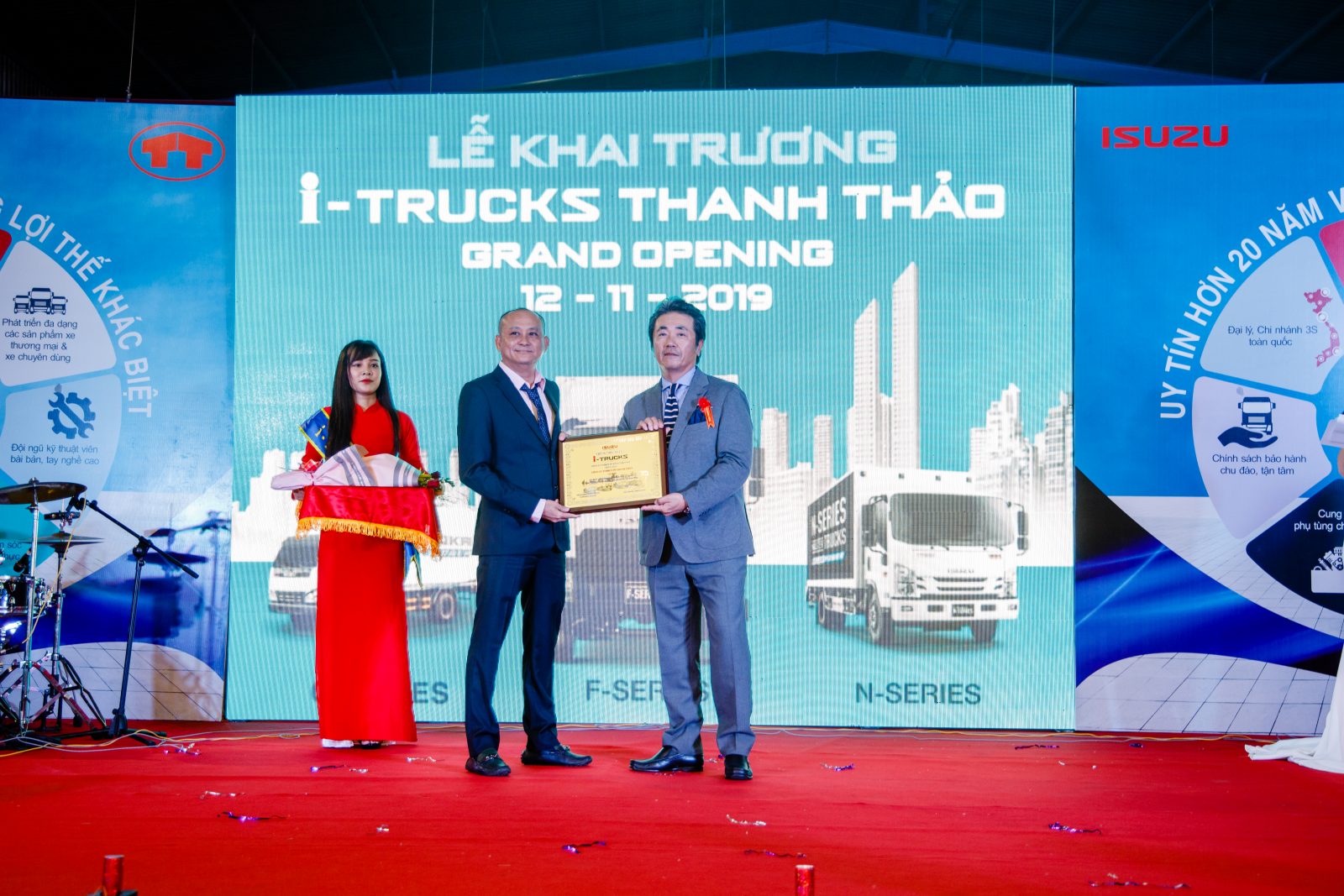 Mr. Hidekazu Noto – General Director of Isuzu Vietnam presented the certificate
Officially authorized i-Trucks dealer of ISUZU Vietnam after giving speech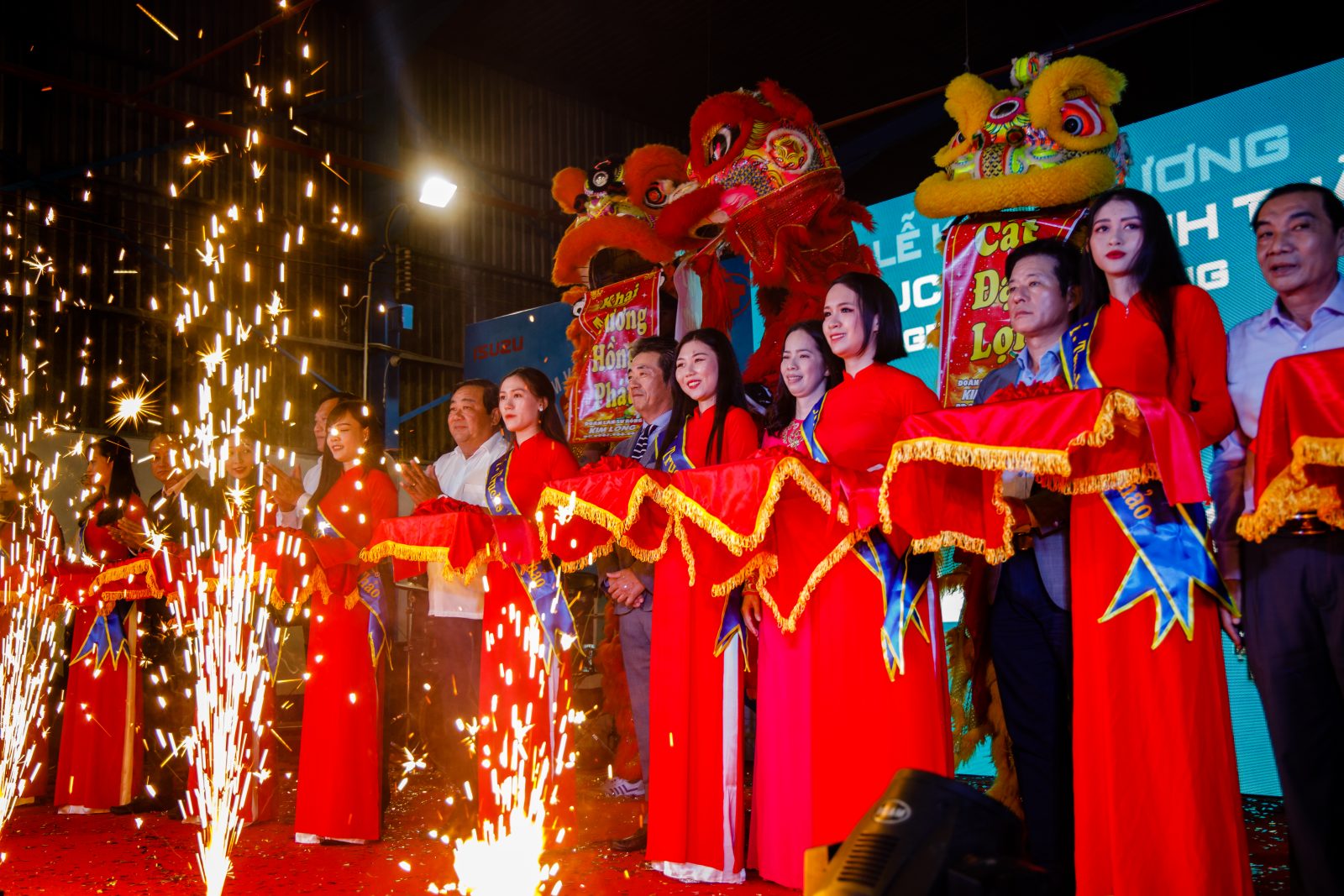 Specially, i-Trucks Thanh Thao also has a team of experienced in Service advisor, Technicians and Sales Consultants who was well-trained by Isuzu's leading experts to quickly meet all the needs of customers with professional style.
On the occasion of opening, i-Trucks Thanh Thao offers attractive promotions for all customer:
Sign the contract on the opening day – November 12, 2019:
Purchase QKR: get 1 Wave Alpha Motorbike

Purchase N-series: get 1 Vision motorbike

Purchase F-series: get 1 Air Blade motorbike
From November 7, 2019 to November 22, 2019, when customers come to i-Trucks Thanh Thao for repair or maintenance, customers will get:
Free vehicle check

Discount 10% for genuine spare parts

Discount 10% for genuine diesel
Contact information:
i-Trucks Thanh Thao
Address: 362 Nguyen Trai, Quarter 4, Ward 9, Ca Mau City
Hotline: 0946804466